Children's Day is a special occasion celebrated across the globe to honour and cherish the innocence and joy that children bring into our lives. It's a day to appreciate the little ones and make them feel special. What better way to do so than by gifting them something that not only brings a smile to their faces but also serves a practical purpose? This Children's Day, Servewell Dinnerware brings you a fantastic range of kid-friendly dinnerware sets that will make for delightful and thoughtful gifts. 
Here are some of the best gifting options for Children's Day, focusing on the products Servewell has to offer.
2-Piece and Cone Avengers Set:

Bring the excitement of the Marvel universe to your child's dining experience with the

2-Piece Avengers Set from Servewell

. This delightful set features a striking Avengers-themed plate and a matching cone-shaped glass. 
 The plate is adorned with vibrant graphics of iconic Marvel superheroes creating a thrilling atmosphere during mealtime. The cone-shaped glass is both visually appealing and practical, making it perfect for serving your child's favourite beverages. This Avengers set adds a touch of action and adventure to the dining table, making it an excellent gift for young fans of the Marvel universe.
3-Piece 3-Partition Cars Set:

For kids who love the world of "Cars,"

Servewell

offers the

3-Piece 3-Partition Cars Set

. This set includes a

plate with three partitions

, along with a spoon and a fork ball featuring beloved characters from the movie. 
3 Piece 3 Partition Cars Dinner Set by Servewell:

The partitions on the plate make mealtime less complicated by keeping different foods separate. This set not only brings joy to children who adore Lightning McQueen and Mater but also helps parents maintain order during meals.
3-Piece Peppa Pig Maggie Bowl:

If your child loves Peppa Pig, the

3-Piece Maggie Bowl Set

is a charming choice for them. This set comprises a Peppa Pig-themed Maggie Bowl with a handle for an easy grip along with a spoon and a fork. 
Featuring the adorable Peppa Pig and her friends, this dinnerware set adds a fun and playful element to every meal. It's a delightful gift for kids who enjoy the escapades of Peppa and her companions.
5-Piece Minions Dinner Set:
Minions have captured the hearts of both children and adults with their lovable antics. The
5-Piece Minions Dinner Set
is designed for young Minion fans.
This set includes a plate, a bowl, a glass, a spoon, and a fork, all adorned with the endearing Minions characters. In addition to its eye-catching design, this set is practical for kids who are learning to eat independently. It makes mealtime an engaging experience while promoting self-sufficiency in young children.
3-Piece 5-Partition Star Wars Set:

Elevate your child's mealtime experience to a galaxy far, far away with our

3-Piece 5-Partition Star Wars Set

. Featuring captivating designs of iconic Star Wars characters and spacecraft, this set brings the Force to the dining table.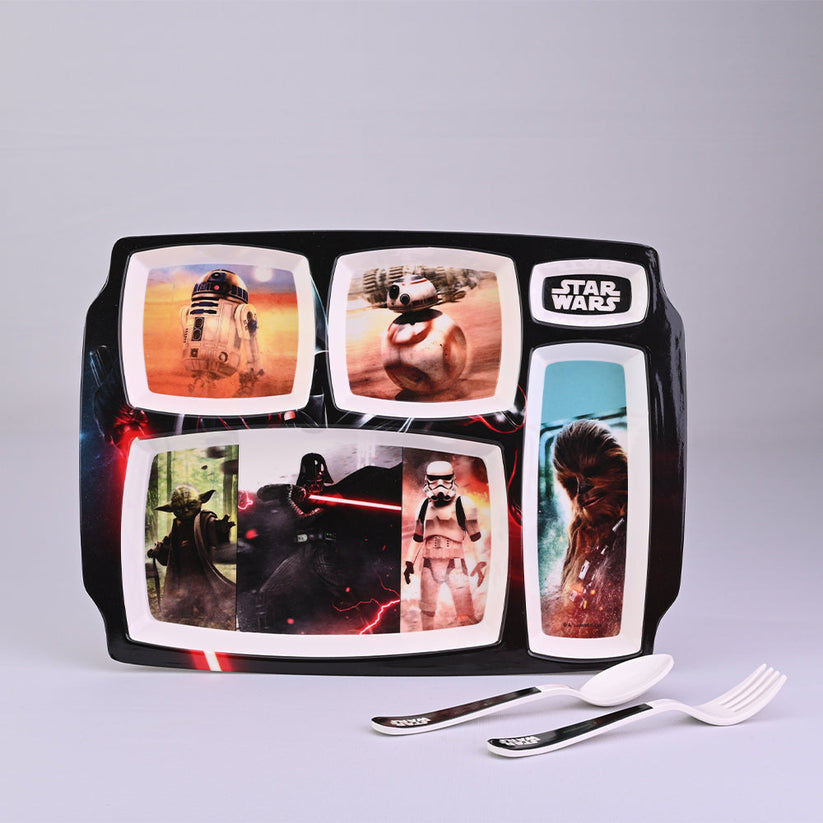 The 5-partition plate not only keeps foods separate but also encourages portion control, making mealtime a fun and healthy adventure. 
These Servewell Dinnerware sets not only showcase attractive designs but are also made from safe and durable materials, free from harmful chemicals like BPA. They enhance the dining experience for kids, making mealtimes more enjoyable, promoting good eating habits, and fostering healthy independence. When selecting a Children's Day gift, these dinner sets are thoughtful and practical choices, appreciated by children and their parents alike. Celebrate Children's Day with the gift of fun and functionality from Servewell Dinnerware.